I received this book for free from the publisher in exchange for an honest review. This does not affect my opinion of the book or the content of my review.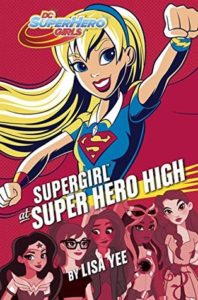 Supergirl at Super Hero High
by
Lisa Yee
Series:
DC Super Hero Girls #2
Published by
Random House Books for Young Readers
on July 5, 2016
Pages:
240
Format:
Hardcover
Source:
the publisher
Buy on Amazon
Goodreads
Get your cape on with the DC Super Hero Girls™—the unprecedented new Super Hero universe especially for girls! Readers of all ages can fly high with the all-new adventures of Wonder Woman™, Supergirl™, Batgirl™, and some of the world's most iconic female super heroes as high schoolers!

Supergirl is the new girl in school—and she just also happens to be the most powerful teenager in the galaxy!

After losing her home planet of Krypton and everyone she knows, Supergirl has made a new home on Earth, but she's isn't so sure that Super Hero High School is the right place for her. Wonder Woman, other new friends, and a kindly librarian make her feel welcome, but breached inter-dimensional portals, invading alien armies, and bad dreams shake her confidence. It's not easy being a super hero and a high school student all at once!

Award-winning author Lisa Yee brings mystery, thrills, and laughs to this groundbreaking series that follows DC Comics' most iconic female Super Heroes and Super-Villains. Move over Batman™ and Superman™—the DC Super Hero Girls are ready to save the day and have fun doing it!
Hey everyone! Welcome to my stop on the blog tour for Supergirl at Super Hero High by Lisa Yee (July 5, 2016 – Random House Books for Young Readers) This book was an incredibly fun read, so I'm really excited to be a part of this blog tour! I hope you enjoy my review!
~*~*~*~*~
I loved this book!! It was such a fun, entertaining read. I really enjoyed the first book, Wonder Woman at Super Hero High, but I REALLY enjoyed Supergirl at Super Hero High. Everything about it – the writing, the characters, the plot – was epic!
I really liked Supergirl as a main character. I loved how klutzy and kind she was. These things made her feel very real and relatable. I loved learning her backstory, especially since I know a lot about Superman (and a little bit about Supergirl) from watching Smallville!
I don't know if it's just because we saw her through Supergirl's dotting eyes, but Wonder Woman REALLY came into her own from book one to book two. She was stronger and more confident than she was in book one. Supergirl really envied and admired Wonder Woman and Wonder Woman could do no wrong in Supergirl's eyes. But I also feel that Wonder Woman has grown and matured a LOT.
I said this in my review of Wonder Woman at Super Hero High, but I'll say it again: If we don't get a Harley Quinn story, I'll riot! Also, if we don't get a Poison Ivy story, I'll riot!! I know from watching Batman & Robin that Poison Ivy becomes a villain and I know from seeing the Suicide Squad commercials that Harley Quinn becomes a villain; however, I seriously adore them! At least in this book series, as their teenage selves, I adore them! And I really, really want to get inside their heads and learn more about them.
There was a great quote in this book: "Unlike [Supergirl], they all seemed to fit right in and had everything figured out." The context is that Supergirl was feeling down on herself and she was feeling envious of her classmates for "having it all together." But I think the keyword here is "seemed." From the outside looking in, Supergirl only saw one side of her classmates. She can't know what they're thinking or what their fears/vulnerabilities are. Everyone has them, even if we can't always see them. I think this is a major lesson in this series – and an important one. People can look completely put together on the outside but be totally not put together on the inside. We can't judge a person based on the face they show society because that face is only part of the story.
The revelations in this book were crazy and the action scenes were completely intense! I also think Lisa Yee's writing was vastly improved in this book – and that's not to say her writing was bad in the first book! Not at all. It was really enjoyable, but it was even better in this book. It was like Yee was more adventurous with her writing this time around and there was more "showing" versus "telling."
The next book (which isn't out until January – SOB!!!) is going to be Batgirl's story and I'm REALLY excited! I LOVED getting to know Barbara Gordon in this book and I can't wait to see what's in store for her in her book. Plus, we're almost guaranteed a decent amount of Supergirl, too (because of their friendship), which is awesome!
Overall, I really loved this book! As I mentioned in my Wonder Woman review, as someone who didn't devour the DC comics, I was definitely a little bit behind on who everyone was and what some of the references were – though it was easier to remember everyone the second time around. But I knew enough and understood enough, so it was still incredibly enjoyable!
This is a short, fast read that I highly recommend to anyone who loves the DC comics, as well as to anyone who wants to get into the comics, but who wants a quick and easy introduction to the characters first!
~*~*~*~*~
About the Author:

Lisa Yee's debut novel, Millicent Min, Girl Genius, won the prestigious Sid Fleischman Humor Award. With over two million books in print, her other novels for young people include Stanford Wong Flunks Big-Time, So Totally Emily Ebers, Absolutely Maybe, and a series about a 4th grader, Bobby vs. Girls (Accidentally) and Bobby the Brave (Sometimes).

Lisa is also the author of American Girl's Kanani books and Good Luck, Ivy, and this year's Lea Clark novels. Her novel, Warp Speed, is about a Star Trek geek who gets beat up everyday at school. A Thurber House Children's Writer-in-Residence, Lisa's books have been named a NPR Best Summer Read, Sports Illustrated Kids Hot Summer Read, and USA Today Critics' Top Pick.

The Kidney Hypothetical – Or How To Ruin Your Life In Seven Days is Lisa's latest novel for teens. Lisa's 2016 books include the DC Super Hero Girls middle grade novel series and the American Girl, 2016 Girl of the Year books.

Website | Twitter | Facebook