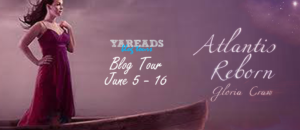 Hey everyone! I'm so excited to be on the Atlantis Reborn (Gloria Craw) blog tour! This book sounds AMAZING!! Check out more about the trilogy below!
Book Title: Atlantis Rising by Gloria Craw

Published by Entangled Teen

Genre: YA Fantasy

Release Date: January 6th, 2015

You'll never see me unless I want you to…

I am different. I have always been different, but no one can know or my life will be in danger. So I hide in plain sight, wearing drab clothes and thick glasses and trying to be invisible. I'm so good at hiding, no one has ever noticed me. Until Ian…the mysterious and oh-so-cute boy I know I need to avoid.

Now I have been seen. And more terrifying still, I am wanted—by those who would protect me and those who would destroy everything and everyone I love. But if they're all terrified about who I am, wait until they see what I can do…
Book Title: Atlantis Quest (Atlantis Rising, #2)

Author: Gloria Craw

Release Date: Mar. 1, 2016

Genre: YA Fantasy

Atlantis Rising is 99 cents all month! Go get your copy today!

Get ready for the exciting follow up to Atlantis Rising, dubbedAn enchanting debut from a promising new author of paranormal YAby Kirkus Reviews.

After all they'd cost me, I thought I was done with the Truss clan. I was wrong. Nikki Dawning, my mortal enemy, has beenkidnapped, and I've been asked to spy on the Truss to find her. The pull between Ian and I has never been stronger, but he can't help me this time. I have to rely on Theron, a bad-tempered cousin I didn't know I had. To make matters worse, the people I trust have been keeping secrets.

I'm starting to feel like a weapon in a war I don't understand. How far am I willing to go to protect the descendants of Atlantis and the common good when I'm not sure what the common good is anymore?

Only one thing is certain. If I'm the next Laurel clan chief, I can't let myself be manipulated…by anyone.

Goodreads | Amazon | Barnes & Noble | iTunes


Kobo | Amazon UK | Amazon CA | Entangled Page
~*~*~
~*~*~
Atlantis Reborn by Gloria Craw

Published by Entangled Teen

Genre: YA Fantasy

In a few days, I'll officially be the Laurel clan chief—but it comes at a heavy cost. My human family, the McKyes, think I'm dead, and the only family I have left is my surly cousin, Theron. Plus the occasional visit from my dead mother.

Gathering the fifteen clans of Atlantis is more tasking than I thought. Thank fate that Ian has my back, otherwise keeping the peace would be a total disaster.I want to give him my heart, too, but without an official likeness, or spontaneous pairing, it's only wishful thinking. To make matters worse, someone out there has the formula to createhuman-Atlantian hybrids. For a hefty price.
~*~*~
~*~*~
And now for the giveaway! To enter, fill out the Rafflecopter below!
~*~*~
~*~*~


About the Author:


Gloria Craw grew up in the desert southwest and attended the University of Utah where she got a degree in anthropology. These days, she lives just outside of Seattle, Washington. She's married, has four daughters and a very hairy dog.




Website | Twitter | Facebook | Goodreads