I received this book for free from the publisher in exchange for an honest review. This does not affect my opinion of the book or the content of my review.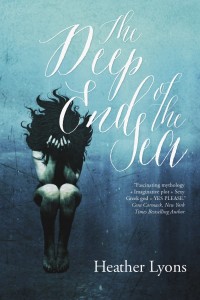 The Deep End of the Sea
by
Heather Lyons
Published by
Cerulean Books
on February 13, 2014
Pages:
288
Source:
the publisher
Buy on Amazon
Goodreads
What if all the legends you've learned were wrong?

Brutally attacked by one god and unfairly cursed by another she faithfully served, Medusa has spent the last two thousand years living out her punishment on an enchanted isle in the Aegean Sea. A far cry from the monster legends depict, she's spent her time educating herself, gardening, and desperately trying to frighten away adventure seekers who occasionally end up, much to her dismay, as statues when they manage to catch her off guard. As time marches on without her, Medusa wishes for nothing more than to be given a second chance at a life stolen away at far too young an age.

But then comes a day when Hermes, one of the few friends she still has and the only deity she trusts, petitions the rest of the gods and goddesses to reverse the curse. Thus begins a journey toward healing and redemption, of reclaiming a life after tragedy, and of just how powerful friendship and love can be—because sometimes, you have to sink in the deep end of the sea before you can rise back up again.

Hey everyone! Welcome to my stop on The Deep End of the Sea blog tour! I'm very excited to be a part of this blog tour! Heather is amazing and I absolutely loved The Deep End of the Sea!!! I hope you enjoy my review!
So many feels!!! Words cannot express how much I loved this book. I'm warning you now: my review won't be coherent. It will be filled with feels, swooning, incoherent thoughts and so much fangirling, it'll be contagious!
I'm a huge, huge, HUGE fan of Heather Lyons. I have been since day one, when I first read A Matter of Fate, the first in her Fate series. She's an amazing writer, a great world-builder and an AMAZING character creator. Her Fate series has one of my all-time favorite love triangles.
And then she went and wrote a book about Medusa (like you've NEVER seen her before) and the Greek Gods. You guys should know by now that Greek Mythology is one of my FAVORITE things to read about. So one of my favorite authors writing Greek Mythology? YESSS. A hundred times YESSSS. Very early on, I knew I was going to fall in love with this book.
First of all, I love Medusa (or Dusa, as she is fondly nick-named by a certain someone – I'll get more into that soon). She is an amazing, amazing character. In the original Greek Myth, she is painted as the villain. She turns people to stone. She's a murderer. And then you read The Deep End of the Sea… And suddenly, you question every single thought you ever had regarding Medusa. All your opinions are called into question. You feel bad for Medusa and you begin to see her in a different light. Suddenly, she's the victim. She was betrayed and cursed. Yet, Medusa does NOT play the victim card. She is strong and she fights back. She is willing to put her life at risk to save others. Bottom line, I absolutely loved Medusa almost immediately. My heart broke for her! But her story was an amazing one and the growth she experienced from beginning to end was epic.
Hermes is just… SWOON. I don't know how else to describe him. He's amazing, kind, gentle, sweet – the complete opposite of what Medusa expects from the Greek Gods. He stands up for what he believes in and he is extremely loyal to those who earn his friendship. Despite the fact that he has become Medusa's friend over the last 2,000 years, he is still a God and she still distrusts the Gods because of everything that happened to her. She still tends to be wary of him at times, but her trust and love in him grow throughout the book. Overall, I love their relationship. It builds from something small into something big. And I'll leave it at that, least I spoil you!
One of my favorite characters (aside from Medusa, of course) was Persephone. The Greek Myth of Persephone is one of my favorites! I love reading about it and I love retellings and modern takes on the Persephone myth. So seeing her in this book made me incredibly happy and excited! The Greek Gods were always depicted as cruel and brutal, so to see Persephone's kindness and caring was in stark contract to that cruelty and brutality. The same goes for Hades – he's the mighty, feared Lord of the Underworld and yet his character in this book is kind, though formidable when need be. And especially after what we learn later in the book… Well, let's just say I absolutely LOVED Persephone and Hades and the direction their stories went in.
Least favorite characters? I think this is obvious, but Athena and Poseidon. I'm still not sure which one was crazier! They were both insane! I almost think Poseidon was crazier, for the fact that he felt justified in his actions. He was a true psychopath. But again, the revelations we learn near the end? Hah!
There were many important themes/concepts in this book, one of which revolved around victim-blaming and the notion that the victim is NOT at fault, that the victim was taken advantage of and hurt against their will and they are not to be blamed, though they may sometimes blame themselves. Another concept centered around the idea that all people in a specific group are the same – that if one person acts out, all are evil and should be feared or persecuted. We see in The Deep End of the Sea that that is NOT the case – Poseidon acted out, Athena acted out. They were cruel and hateful. Because of that, Medusa feared all the Gods. Yet Persephone, Hades, Hermes, Aphrodite – they were all kind to Medusa and she needed to learn to trust them, to not let her fears of some make her fearful of all. I found these themes to be incredibly powerful and touching. Finally, there was the concept that "violence is not picky when it comes to its victims." Medusa realizes this and I think it's an incredibly important realization for her. For those who have been a victim of any kind of crime and/or abuve (mental, emotional, physical or sexual, etc), ALL of these concepts are important for them to know and understand.
The revelations in the third part of the book were insane and I did NOT see them coming. I just.. I can't… *Dies!!* Seriously, there's no way to explain this without spoilers but I WILL say that I LOVED it so much!!! Like, my nerdy, Greek-loving self went crazy with the revelations we were given! It made me view so many characters in different ways and made me want to re-read the entire book right away so I could see everyone in their true light.
And that ending was… holy crap! I don't even have words for how good it was! I'm really, seriously hoping we get to see a second book in this series or a companion in this world or, at the very least, I hope Heather writes more books with Greek Myths!!
I don't think it needs to be said, but I would ABSOLUTELY recommend this book to everyone!!
———————————————————————————————–
About Heather Lyons:

Heather Lyons has always had a thing for words—She's been writing stories since she was a kid. In addition to writing, she's also been an archaeologist and a teacher. Heather is a rabid music fan, as evidenced by her (mostly) music-centric blog, and she's married to an even larger music snob. They're happily raising three kids who are mini music fiends who love to read and be read to.

Heather's Website | Heather's Twitter




Heather's Facebook | Heather's Goodreads




Heather's Pinterest
Thanks to Inkslinger PR and Heather Lyons, we have an amazing giveaway set up for you guys! Please enter by using the Rafflecopter below: