I received this book for free from a blogger in exchange for an honest review. This does not affect my opinion of the book or the content of my review.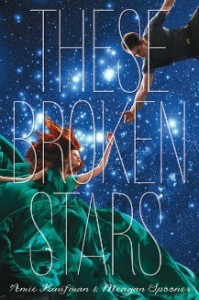 These Broken Stars
by
Amie Kaufman
,
Meagan Spooner
Series:
Starbound #1
Published by
Disney Hyperion
on December 10, 2013
Pages:
374
Format:
ARC
Source:
a blogger
Buy on Amazon
Goodreads
It's a night like any other on board the Icarus. Then, catastrophe strikes: the massive luxury spaceliner is yanked out of hyperspace and plummets into the nearest planet. Lilac LaRoux and Tarver Merendsen survive. And they seem to be alone.

Lilac is the daughter of the richest man in the universe. Tarver comes from nothing, a young war hero who learned long ago that girls like Lilac are more trouble than they're worth. But with only each other to rely on, Lilac and Tarver must work together, making a tortuous journey across the eerie, deserted terrain to seek help.

Then, against all odds, Lilac and Tarver find a strange blessing in the tragedy that has thrown them into each other's arms. Without the hope of a future together in their own world, they begin to wonder—would they be better off staying here forever?

Everything changes when they uncover the truth behind the chilling whispers that haunt their every step. Lilac and Tarver may find a way off this planet. But they won't be the same people who landed on it.

--

A timeless love story, THESE BROKEN STARS sets into motion a sweeping science fiction series of companion novels. The Starbound Trilogy: Three worlds. Three love stories. One enemy.
These Broken Stars was an epic tale of survival and romance. It was described as "Titanic in Space." Disney Hyperion called it "A little bit Titanic, a little bit Lost, a little bit Battlestar Galactica." And though I haven't watched much of Lost or BG, I can definitely tell you – from what I do know – that those descriptions are all perfect and right on the money.
I loved Lilac and Tarver. Lilac definitely had her bratty moments, but she had such an amazing story-arc and she grew, matured and changed so much, you couldn't help but like her. It got to a point where I just rolled my eyes and let it roll off my back – Being bratty was just her defense mechanism. I'd love to say she outgrew it, but she never really does, though – again – she matures a lot.
Tarver is almost always in survival mode. He is the practical one and sometimes that got frustrating, especially when he didn't believe Lilac during certain scenes when certain things happened. I mean, it was realistic but very, very frustrating!
I really appreciated the fact that this didn't feel like insta-love or "love at first sight." They're relationship had a slow build-up to it. They needed each other to survive, which forced them together more quickly than they would have liked (in my opinion), but they still didn't fall madly in love for some time. I loved the banter between them. There were definitely some laugh-out-loud moments. And then, about 35% into the book, there's this moment between them and you can absolutely feel the shift in their relationship.
There were DEFINITELY some creep-tastic moments that made me go "What's going on?? I NEED TO KNOW!!!" This was the most tempted I've ever been to peak at the ending of a book. I was so curious! I had my suspicions – some of them were wrong and several were right. It was incredibly intriguing, trying to figure it out before it happened and I was relieved it wasn't completely predictable, and still had me on the edge of my seat. Even with the moments when I was right, I was still shocked when the truth was "revealed."
And, holy crap! There were definitely some HUGE shocking moments in there. Like… I was pretty much screaming at the book, demanding to know what had just happened a few times! I mean, if you follow me on Goodreads, you know. But if not, this was me:
Yep. I was just… mind-blown!
Throughout the book, we hear from Lilac about how controlling and manipulative her father is. Near the middle/end, we REALLY see just how.. evil (for lack of a better word) he is. But, one of my favorite parts of this book? Lilac stood up to him and gave him a piece of her mind. Loved it!
I had a few minor issues with this book, which is why it got a 4 instead of a 5. I won't go into those reasons in this review, just because they were really minor and might have just been me and my state of mind. But overall, I loved it and found it to be original and enjoyable. I can't wait for book two in this epic trilogy.