Hey everyone! I'm really excited to have Linda Bloodworth, author of A Raven's Touch (January 4, 2016 by Pronoun) here for an interview! First, here's more about the book:
Bullied through high school, seventeen-year-old Justice St. Michaels is grateful for the help of her best friend Moira O'Fhey. Their only wish is to graduate high school, leave the sleepy town of Fallingbrook and all that happened behind them. The Heavens have other plans. Between growths on her back and being involved in explosive school fights, nothing seems to make sense. When an unexpected encounter with Darien Raventhorn causes worlds to collide it exposes the truth about Justice's real identity. To avenge a family death, Justice must embrace her birthright, and slay a demon before all Hell breaks loose.

Goodreads | Amazon



~*~*~*~
~*~*~*~
And now for the interview! Enjoy!
Question: Congratulations on the release of A Raven's Touch! Your book has been out in the world for over a month now. What's the response been like?
Answer: Thank you! It's been a lot of fun, that's for sure. I've met so many new people I don't know if I'd have met otherwise. Having built a fan base before I released really helped and then reading the 5-star reviews after has put me on cloud 9. I have to reel myself back in sometimes. Overall, it's been fantastic, a real dream come true.

Question: A Raven's Touch sounds amazing! What inspired the plot?
Answer: I had a dream and the name of the book came to me. From there I just let the story take me on a journey and that's how it came to be.

Question: What books/movies/TV shows did you enjoy when you were younger? In what ways did those books/movies/TV shows inspire your writing style?
Answer: I absolutely loved watching X-Files. There's something about the bizarre and strange that spoke to me. I have a character that is a combination of David Duchovny and Matt Smith's Doctor Who character. I identified with X-Men because who doesn't feel like a freak at some point in their life. Also, Sailor Moon really dominated my early teenage years. My main character, Justice, has some extraordinary powers and she also has the bravery of the sailor scouts. I figured, why not combine all the things I love? Twin Peaks really influenced me during the first time I wrote my novel when I was 14-18. Now, in my 30s, I've re-written it from an adult perspective and that in itself is rather different.

Question: According to your website, A Raven's Touch features a half angel, a witch, a vampire, elves and a dragon! If you could be ONE of these supernatural creatures, which would it be and why?
Answer: Oh, that's a good question! I'd have to say a half angel. It's the best of both worlds. You don't have to kill anyone to survive, you have awesome powers, and you get to be chummy with the big man upstairs. Sounds like a win-win to me.

Question: You're self-published. Can you tell me more about that? When did you make the decision to self-publish? What has the road to publication been like for you?
Answer: I knew when I started writing that I'd self-publish. From speaking with a few friends who are with a publishing house, I've heard they don't get to decide their covers, or agree with their edits, and have to do a lot of the promotion themselves. That is something I can't tolerate. Why would I let someone take a huge percentage just to have me do the work? No thanks. I'm not afraid of a little hard work.

Question: Do you see yourself breaking out of YA Paranormal/Fantasy for future WIPs? Or is it your preferred genre?
Answer: For now, it's what I am writing just because that's how the stories come to me, but I can see myself writing a horror novel. If I look deep enough there might be a contemporary story in me. I may have to squint.

Question: Craziest thing you've had to Google for a WIP?
Answer: I honestly hope the FBI doesn't come knocking on my door because I've had to search a few weird things indeed. The worst one was how long does a human body decompose after being dissolved. Yeah, I can imagine that wouldn't go over too well. Other runners up: how to defend against an attack, how to stop a throat wound, and police radio codes.

Question: According to Goodreads, A Raven's Touch is book one in the A Raven Wing series! Are you working on the next book? When can readers expect it out? Any idea how many books – total – will be in the series?
Answer: I am working on the sequel to A Raven's Touch and I am thinking it will take me at least two years minimum. The revision/editing process is not the easiest and I know this time to leave a long period of time for that alone. Probably the story will be a trilogy, but I'm going to leave that open because I left many avenues open for Justice and her friends to explore even after they complete their first adventure.

Question: Are you working on anything new (aside from book two of A Raven's Wing)?
Answer: Just keeping my sanity. One book is all I can handle at a time. ;)
~*~*~*~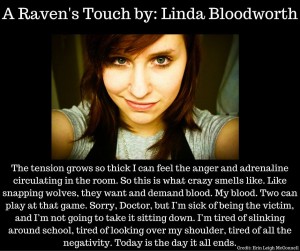 ~*~*~*~
And now for the giveaway! Thanks to Linda, two winners will receive an eBook copy of A Raven's Touch!
Rules: Giveaway is International as long as you can accept the eBook copy from Amazon or in ePub or PDF format. Once emailed, the winner will have 48 hours to respond to the email to claim their prize. If the winner does not respond within 48 hours, a new winner will be selected. Must be 13 or older OR have parental permission to enter! Neither I nor the author/publicist/publisher are responsible for lost, stolen or damaged prizes/items
To enter, leave a comment on this post, answering this question: A Raven's Touch features a half angel, a witch, a vampire, elves and a dragon! If you could be ONE of these supernatural creatures, which would it be and why? Along with your comment, please leave your email address and/or Twitter handle so I have a way to contact you if you win! Giveaway ends February 29, 2016 at 11pm EST!
~*~*~*~
Linda Bloodworth loves chips, like really, ketchup to be exact. Ketchup chips are only found in Canada. Lucky for Linda she lives in Toronto with her husband and three fur babies. In between writing, debating for hours about the Oxford comma, and the misunderstood semi colon, Linda enjoys camping and getting away from the city on day trips.

Website | Twitter | Facebook