I received this book for free from the publisher in exchange for an honest review. This does not affect my opinion of the book or the content of my review.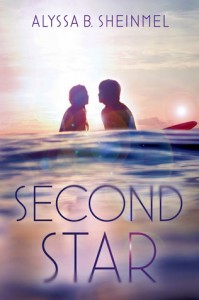 Second Star
by
Alyssa B. Sheinmel
Published by
Farrar Straus and Giroux
on May 13, 2014
Pages:
248
Format:
ARC
Source:
the publisher
Buy on Amazon
Goodreads
A twisty story about love, loss, and lies, this contemporary oceanside adventure is tinged with a touch of dark magic as it follows seventeen-year-old Wendy Darling on a search for her missing surfer brothers. Wendy's journey leads her to a mysterious hidden cove inhabited by a tribe of young renegade surfers, most of them runaways like her brothers. Wendy is instantly drawn to the cove's charismatic leader, Pete, but her search also points her toward Pete's nemesis, the drug-dealing Jas. Enigmatic, dangerous, and handsome, Jas pulls Wendy in even as she's falling hard for Pete. A radical reinvention of a classic, Second Star is an irresistible summer romance about two young men who have yet to grow up--and the troubled beauty trapped between them.
Second Star blew my mind in so many ways. Though I saw the twist coming as early on as half-way through the book, it still left me feeling shocked. I went into it knowing it was VERY loosely based on Peter Pan, which helped me keep my mind clear when it veered so far away from the original tale.
Unfortunately, I never connected with Wendy. Yet that didn't bother me in Second Star the way it has in other books. The story grabbed me in and pulled me along, distracting me from the fact that I didn't really like or care about her. I did feel she was very over-dramatic with a one-track mind that kept her from seeing anything else that was going on in her life. Of course, this was explained in the end. And the explanation/reasoning was.. Wow.
I loved Pete and Jas. I know a lot of people had issues with the "insta-love" and a "forced love triangle." But I didn't feel like it was insta-love at all and I didn't get the love-triangle vibe at all. Of course, again, knowing how the books ends, I see it a lot differently now than I did while I was reading it. Pete was kind and caring, very easy-going. He was a smooth-talker, too! Jas had a hard outer-shell that he hid behind – the classic "I'm a bad-boy on the outside to hide my true feelings and compassion, but I'm really just a softie!" But again.. The ending explained all of this and it all made so much sense!
Belle was a hilarious character. She was, obviously, meant to be a Tinker Bell reboot. But she was a bitch! At least in the beginning. In truth, I guess I should have seen that coming, but it was still weird to see it after growing up with the image of Tinker Bell being sweet and kind and helpful. At the same time, I kind of liked it and her, overall.
Wendy made some hilariously bad decisions. Going into this book, I had seen some INCREDIBLY negative reviews and remarks, mostly revolving around Wendy and her choices throughout the book. Maybe I'm weird, but none of the things people complained about bothered me. At least, not as much as it bothered other people. Sure, she made some bad choices. Yeah, I didn't like certain things being used as plot devices. Yes, Jas was the bad-boy that Wendy should have been avoiding, not getting closer to. But none of that ruined the story for me. None of that dropped the rating for me. I still found it to be a fun, intriguing read. And again, once you read the entire book, so many things come together and you see everything that happened in a new light.
Overall, Second Star was a truly entertaining, surprising book. Though I basically figured the ending out half-way through reading, it still left me mind-blown. And then the final twist, at the end? Wow. I feel like this review is really vague because I don't want to spoil anything… But I swear, you NEED to read this book. I highly recommend it because it will seriously mess with you and leave you wanting more!