I received this book for free from the publisher in exchange for an honest review. This does not affect my opinion of the book or the content of my review.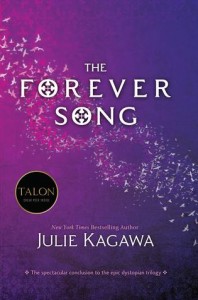 The Forever Song
by
Julie Kagawa
Series:
Blood of Eden #3
Published by
Harlequin Teen
on April 15, 2014
Pages:
416
Source:
the publisher
Buy on Amazon
Goodreads
VENGEANCE WILL BE HERS

Allison Sekemoto once struggled with the question: human or monster?

With the death of her love, Zeke, she has her answer.

MONSTER

Allie will embrace her cold vampire side to hunt down and end Sarren, the psychopathic vampire who murdered Zeke. But the trail is bloody and long, and Sarren has left many surprises for Allie and her companions—her creator, Kanin, and her blood brother, Jackal. The trail is leading straight to the one place they must protect at any cost—the last vampire-free zone on Earth, Eden. And Sarren has one final, brutal shock in store for Allie.

In a ruined world where no life is sacred and former allies can turn on you in one heartbeat, Allie will face her darkest days. And if she succeeds, triumph is short-lived in the face of surviving forever alone.
The Forever Song by Julie Kagawa was an epic adventure filled with heart-stopping moments – as well as some incredibly heart-breaking moments! If tears feed Julie's muse, then her muse must be well-fed! This book was pretty much the perfect ending to an incredible trilogy. I'm both satisfied with how it ended and deeply saddened that I have to let it go. I've grown to love this series and these characters so much.
As a quick side-note.. It's really, really hard to write a spoiler-free Julie Kagawa review without breaking into gibberish feels and such. So, please forgive me!
Let's start with Allie. I've loved Allie from the beginning. She always exhibited a lot of character growth. She's a survivor and she does what has to be done. In the beginning of The Forever Song, though, she kind of annoyed me – for the first time ever, pretty much. She was very whiny and had this "pity me" attitude. She had a LOT of inner conflict over things. It really got on my nerves. By the end of the book, though, she was back to being the Allie we all know and love. She reflects a lot on who she was and who she has come to be and I think, through her eyes, we really see how far she has come.
Zeke… I don't know what I can say without being spoilery. But I love Zeke and there were so many things and feels and… Ugh, I don't even know! I'm… not happy with what happened to him, but I'm satisfied with the way his story turned out in the end. Yeah, that's all I can say without spoiling things. Sorry, guys! But this is incentive to read the book!! *Evil grin*
I'm pretty sure Jackal was my favorite part of the story. I love his whitty, sibling-like banter with Allie. I love his little one-liners and quips. I love how far he's come and how much he's grown and changed, yet stayed exactly the same as he was. Does that make sense? No? Too bad – read the book!!! You'll see what I mean! *Another evil grin*
Kanin… Oh boy. Oh boy. All the feels! I don't even know what to say… I love, love, LOVE Kanin and.. At 13% into the book, I updated my Goodreads status to this: "I love Kanin so much. He's the voice of reason. But knowing Julie Kagawa… *Shakes head*" — And.. Umm… *Glares at Julie.. Chin trembles.. Shakes fist and runs away*
There were so, so many moments that nearly gave me a heart attack, it's not even funny. Seriously, sometimes I was afraid to flip to the next page. Julie Kagawa is really great at making you fall in love with her characters… And she's really great at destroying your soul and bringing on the feels. It's inevitable, and something I'm always prepared for when I read her books!
On the flipside, I can count on one hand the number of things that annoyed me. Like I said, I wasn't crazy about Allie's behavior in the beginning, there were moments with Zeke that made me pout, Kanin…Just..Kanin! And I didn't like two things that happened near the end, though I completely expected them to happen, so it wasn't much of a surprise.
Overall, despite the small handful of things that kind of annoyed me, I loved The Forever Song. With the evil, evil cliffhanger we got in The Eternity Cure, I was desperate to get my hands on The Forever Song and I was definitely not disappointed! I will forever and always be a Julie Kagawa fan – She's one of my auto-buy authors and I can't wait for her next book, Talon, to come out!