On Tuesday, I had the unbelievable fortune of attending an amazing event, hosted by Harlequin. There were bloggers, editors, agents, publicists – and the special guests, Julie Kagawa and Jennifer L. Armentrout! I have to be honest, I was a little starstruck! So I don't have as many pictures as I would have liked to share with you guys, and I don't even have full details on some of what went down – Ever get so nervous, you blank things out? Yeah, that happened. I promise, I'll do better next time! But it was truly an amazing night! I got to meet some bloggers, Harlequin staff and, of course, Julie and Jennifer!
Julie announced her new series, which is about dragons! More on that can be found here.
I got to meet Julie and fangirl a little bit! Here, we're holding some of the amazing dragons she designs and sells on Etsy! And you can see some of the New York City skyline! We were 46 floors up, and it was gorgeous! (The red is a reflection of the lights in the room).
I also got to meet Jennifer L. Armentrout! She was signing copies of White Hot Kiss, her new book, which will be out March 2014! It's about gargoyles and demons, and apparently Roth is the Original Daemon Black!
At the end of the night, we got these amazing Harlequin tote bags filled with books! And some swag and cookies :) I don't have a picture of the tote bag or swag, but I'll share it in my Stacking the Shelves tomorrow!
All in all, it was a really amazing night. I definitely had some nervous jitters and I'm still sitting here hoping I made a great first impression with everyone Bbecause I was so nervous. But it was amazing and I'll cherish that night for a long, long time.
So now, of course, I have goodies to give away! And here they are: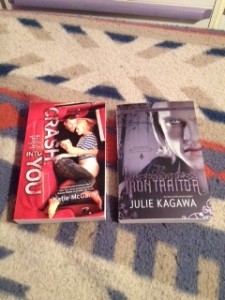 And guess what? The Iron Traitor is SIGNED!

I'm doing this as TWO separate giveaways and I'll have TWO rafflecopters below. You can enter BOTH!
So who's ready for the giveaways?!?
-Giveaways are US/Canada only
-For each contest, Winner has 48 hours to respond. If winner does not respond, a new winner will be selected.
-You must be 13 or older to enter OR have your parents' permission.
-I am not responsible for lost, stolen, or damaged items. Once it's in the mail, I have no control and, sadly, cannot re-ship anything.
-I reserve the right to change any rules as I see fit for each individual giveaway
*The above giveaway rules were borrowed and modified from Jessica @ Just a Book Lover.
With that being said, I wish you luck! May the odds be ever in your favor!