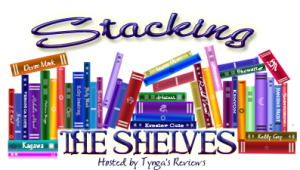 Stacking the Shelves is a weekly meme hosted by Tynga's Reviews.
~*~*~*~*~
Hey guys! So, this is my first non-video STS post. I just needed a break from filming. I'm not sure how to best format this, so I'd definitely appreciate some feedback! Originally, I wanted the covers facing out, but there were SO MANY BOOKS, especially under the "bought" category, that I felt like it would take forever to do. But let me know if you'd prefer that!
These are all the books I've received since I came home from BEA, including eBooks:
Books I Bought
Crewel by Gennifer Albin
Altered by Gennifer Albin
The Land of Stories: The Wishing Spell by Chris Colfer
The Way We Fall by Megan Crewe
The Girl Who Never Was by Skyler Dorset
Poor Little Dead Girls by Lizzie Friend
All That Glows by Ryan Graudin
The Unbecoming of Mara Dyer by Michelle Hodkin
Meridian by Josin L. McQuein
Toxic by Sara Shepard
The Madman's Daughter by Megan Shepherd
Her Dark Curiosity by Megan Shepherd
Darkworld by Cara Lynn Shultz
The Unbound by Victoria Schwab
Books I Won
Free to Fall by Lauren Miller
Enders by Lissa Price
Thank you Celeste and Josie!
Books I was Gifted/Traded
The Vanishing Season by Jodi Lynn Anderson
The Inventor's Secret by Andrea Cremer
Exile by Kevin Emerson
Dear Killer by Katherine Ewell
Prodigy by Marie Lu
Always Emily by Michaela MacColl
Landline by Rainbow Rowell
Thank you Emma, Julie, Rachel, Christina and Stacee!
Books from Publishers
The Vault of Dreamers by Caragh M. O'Brien
Thank you Macmillan!
eBooks (Not Pictured. Source in parentheses)
The Mark of the Hummingbird by Jessica Gollub (Gifted from Author)
Of Scars and Stardust by Andrea Hannah (NetGalley)
Heir of Fire by Sarah J. Maas (NetGalley)
Take Me On by Katie McGarry (NetGalley)