I received this book for free from the publisher in exchange for an honest review. This does not affect my opinion of the book or the content of my review.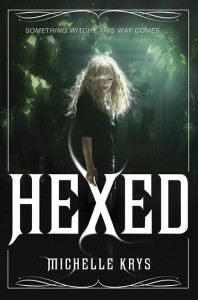 Hexed
by
Michelle Krys
Series:
Hexed #1
Published by
Delacorte Press
on June 10, 2014
Pages:
384
Source:
the publisher
Buy on Amazon
Goodreads

If high school is all about social status, Indigo Blackwood has it made. Sure, her quirky mom owns an occult shop, and a nerd just won't stop trying to be her friend, but Indie is a popular cheerleader with a football-star boyfriend and a social circle powerful enough to ruin everyone at school. Who wouldn't want to be her?

Then a guy dies right before her eyes. And the dusty old family Bible her mom is freakishly possessive of is stolen. But it's when a frustratingly sexy stranger named Bishop enters Indie's world that she learns her destiny involves a lot more than pom-poms and parties. If she doesn't get the Bible back, every witch on the planet will die. And that's seriously bad news for Indie, because according to Bishop, she's a witch too.

Suddenly forced into a centuries-old war between witches and sorcerers, Indie's about to uncover the many dark truths about her life—and a future unlike any she ever imagined on top of the cheer pyramid.
Hey everyone! Welcome to my stop on the Hexed blog tour! I'm very excited to be a part of this blog tour! I first heard about Hexed back in December of 2013 and I've been excited to read it ever since. And let me tell you, it was just as epic as it sounded!! I hope you enjoy my review!
Hexed was an amazing, amazing book and I adored it to pieces! I felt satisfied with the ending, yet was desperate for more! I don't know how I'll survive until 2015 when book two comes out! Fair warning, I loved this book so much, I was barely able to put it into words.. So this review is pretty much me just babbling about how awesome it is in the vaguest way so I don't spoil anything! You have been warned…! :)
I loved Indie (aka, Indigo, the main character). She was pretty innocent and slightly helpless in the beginning, but she didn't stay that way for long. She did what she had to in order to survive and, when she grew tired of constantly being in danger, she stepped up and fought to learn who she was and what being a witch meant. She definitely went through a lot throughout the book and she matured a lot, especially near the end, when she took charge of the situation.
Bishop was… Whoa. I adored him more than words can ever describe! I'm adding him to the Book Boyfriend List! He's right up there with Morpheus and Matt Finch as far as being swoon-worthy! He had a sarcastic sense of humor and some hilariously evil one-liners, not to mention his physical description. Basically, he had everything a swoon-worthy YA book boy needs to be, well, swoon-worthy! The tension between him and Indie was hilarious and when they finally gave in, it was epic!
Paige was an awesome friend. Indie was so horrible to her for so long, Paige had no obligation to stick by Indie, yet she did. I really felt like Paige was a relatable character and I would have loved to see more of her in the story. Although, that ending… I have a feeling we WILL see more of her in book two. But.. Well.. It may.. *Bites tongue* You guys need to read this book so we can discuss this!!!
Jezebel was horribly bitchy, but I loved her anyway. There was just something about her that made me want to like her. She was hilarious and badass! Though, at the same time, I was a little nervous about trusting her at certain points throughout for the book. Bianca, on the other-hand, was horrible and I wanted to punch her! She was hilarious in the beginning, but she turned out to be an awful friend and a horrible person.
Now, Aunt Penny… I really can't say much about her without spoiling things. But first, let me say her name called to mind Charmed and Grams. So I automatically loved her. But then, near the end… I had this weird, gut feeling that she knew more than she was letting on… And I'm anxious to see what her role is in the second book. I'm really hoping she plays a bigger part in the plot for book two than she did in Hexed!
There were some pretty heart-wrenching moments in this book, as well as some major heart-stopping moments. One thing in particular that happened.. I kept hoping it was a joke or reversible or… something, anything! I refused to believe it had actually happened. But unfortunately, it wasn't a joke and it wasn't reversed and, not gonna lie, I teared up a bit!
The ending had me on the edge of my seat! Every time I thought one thing was going to happen, something else entirely happened! I thought I knew where it was going and I was partly right, but mostly wrong! I had a weird feeling about one thing, though, and I was mostly right! Sorry for the vagueness – This is the hardest non-spoiler review I've ever had to write! I just want to discuss ALL THE THINGS WITH YOU GUYS! But I can't cause then I'd spoil it for you… Please read this book ASAP so we can discuss!
Bottom line, Michelle Krys is an amazing storyteller. She crafted a wonderful world, amazing characters and a terrific plot that makes me beyond happy witch books are becoming a thing again. Not only am I already desperate for book two, but I'm desperate for whatever else Krys writes outside the Hexed world. She's definitely a debut author to watch out for!