I received this book for free from the publisher in exchange for an honest review. This does not affect my opinion of the book or the content of my review.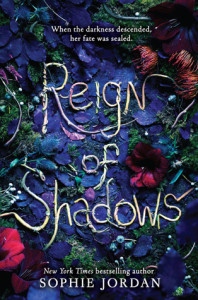 Reign of Shadows
by
Sophie Jordan
Series:
Reign of Shadows #1
Published by
HarperTeen
on February 9, 2016
Pages:
304
Format:
ARC
Source:
the publisher
Buy on Amazon
Goodreads
Seventeen years ago, an eclipse cloaked the kingdom of Relhok in perpetual darkness. In the chaos, an evil chancellor murdered the king and queen and seized their throne. Luna, Relhok's lost princess, has been hiding in a tower ever since. Luna's survival depends on the world believing she is dead.

But that doesn't stop Luna from wanting more. When she meets Fowler, a mysterious archer braving the woods outside her tower, Luna is drawn to him despite the risk. When the tower is attacked, Luna and Fowler escape together. But this world of darkness is more treacherous than Luna ever realized.

With every threat stacked against them, Luna and Fowler find solace in each other. But with secrets still unspoken between them, falling in love might be their most dangerous journey yet.
When I first read the synopsis for this book, I was super intrigued. But as I began reading, I just felt.. meh. It was good enough that I finished it, but I definitely considered putting it down a few times. The writing was pretty good, but the pacing was way off. And I'm really torn with regards to the characters. Honestly, I was completely 50/50 regarding every aspect of this book. I finished it Wednesday night and I'm still not even sure how I feel about it.
I felt seriously disconnected from the characters. I didn't like nor dislike them. Honestly, I felt pretty indifferent towards them. I didn't really care what happened to them, only in the sense that I wanted to see how the story ended as a whole. I loved how Luna's lack of sight wasn't the focus – the author didn't make a big deal about it, yet it was still integral to Luna's story and character development. She was incredibly brave, strong and resilient. She also had mad fighting skills! She was also a compassionate character, running to the aid of complete strangers. Despite all that, I still really didn't connect with her or care about her.
As far as Fowler goes, I… Wow. I really have nothing to say about him. Nothing good or bad. I'm completely indifferent to him. Nothing about him stands out. He was a very isolated, selfish character for most of the book. And then, out of nowhere, he had "feelings" and it was like.. What? Since when? Also, I did NOT have ANY ship feels for Luna and Fowler at all. I barely even blinked when they kissed – not even when they full-on made out. I just didn't believe it or feel it. The only thing I will say is, the revelation with Fowler was interesting, but not surprising.
I did really like Sivo and Perla, but we didn't get to see nearly enough of them. I wanted more of them and their backstories. Hopefully we'll see more of them in book two!
Like I said earlier, the pacing was really weird. Sometimes I flew through several chapters in one sitting, sometimes I had to push myself to read just one chapter. There were also a LOT of "dangerous situations" and "obstacles" throughout the book. Like, it would have been odd if they hadn't run into ANY trouble at all, but I almost felt like they ran into TOO much trouble.
And then.. That ending.. Umm… I really don't know how I feel. Like, I really don't. It was very, very, VERY strange and random. But.. it was also intriguing. I know that's… a complete contradiction.. But… GAH! I really don't know..!!! I think I was intrigued enough to read book two… But not dying for it, I guess. I DID have major Rapunzel/Tangled feels. So that's a plus!
So… I don't think I can confidently say I recommend this book, only because I still don't know how I feel about it. If you like Sophie Jordan, you'll probably enjoy Reign of Shadows. If you've never read a Sophie Jordan book before, I suggest starting with one of her other books first.