I received this book for free from the publisher in exchange for an honest review. This does not affect my opinion of the book or the content of my review.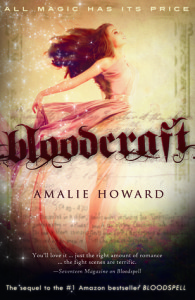 Bloodcraft
by
Amalie Howard
Series:
The Cruentus Curse series #2
Published by
RAH Media LLC
on December 15, 2015
Pages:
380
Source:
the publisher
Buy on Amazon
Goodreads
All magic has its price, and no one knows that better than Victoria Warrick. Gifted with a centuries-old blood curse, Tori has finally learned to master her blood's demands and has emerged triumphant with Christian Devereux, a vampire overlord, at her side.

But the worst is yet to come …

In the infamous City of Lights, home to both the Witch Clans and the Vampire Council, Tori enrolls at the exclusive Belles Fontaines school in Paris, where she is faced with a devastating choice: choose Christian and be an outcast, or choose the coven and secure her place with the witches.

When the fate of the supernatural world is targeted by a sinister new threat, Christian and Victoria must unite their two warring species to defeat it. Their bond will be tested, twisted, and sorely weakened, and Tori will find herself in uncharted territory—a dangerous place to be when her blood's magic has its own dark agenda.

But to save them all, she may have no choice but to invoke its deadly power.

*NOTE: Bloodcraft is Upper YA / New Adult (for mature content–violence, sensuality & language)

~*~*~*~

Hi guys! Welcome to my stop on the Bloodcraft blog tour! Today, I was supposed to share with you my review. However, an unexpected and devastating death in the family caused me to fall behind in my reading and I haven't finished Bloodcraft yet. The wonderful and understanding tour host has given me permission to share a review of what I've read so far, so that's what you'll find below! Once I've finished the book, I'll update my review to a full review! Enjoy!
Also, be sure to click here to view the Release Week Blitz post, which has an excerpt, an epic giveaway and links to Bloodspell's (The Cruentus Curse series, book one), $0.99 sale!
~*~*~*~
~*~*~*~
Review Updated On December 21, 2015!
~*~*~*~
~*~*~*~
Bloodcraft blew me away! Amalie's gorgeous writing + an epic world + an intriguing plot + epic characters = another incredible book by Amalie Howard!
First of all, Amalie is a gorgeous writer. She creates these amazing worlds that just pull you in and refuse to let you go. I especially love the Bloodspell/Bloodcraft world. The magic, the rules, the history, it's just all completely fascinating! And it makes sense, since I LOVE vampires and witches and always have! Amalie is also incredible at creating characters you love and characters you love to hate.
Tori had SO MUCH character growth from the beginning of book one to the end of book two. She really came into herself and her powers. I wasn't sold on her and Christian's relationship in Bloodspell, but I totally shipped them in Bloodcraft. And I really liked Christian a lot more in this book (as opposed to Bloodspell)! He, like Tori, had a lot of character growth and really came into his own and his powers. I liked the revelations with him a lot!
Lucian was totally evil in Bloodspell, yet I couldn't help but feel for him. And in Bloodcraft, he became… Well, he wasn't nicer or less evil, but something changed in him. I think, of all the characters that experienced character growth in Bloodcraft, he experienced the most! I was incredibly heartbroken by the way his story ended though :(
I never trusted Lena, not in either book. She kind of reminded me of Victoria from Twilight. Cunning, calculating and – when it really comes down to it – looking out for herself and no one else, even despite her feelings for Lucian. Yet, she was really growing on me in this book! And, like with Lucian, I was shocked and saddened by the way her story ended.
I really liked Leto and Aliya, but I was really weary of them and I really didn't trust either of them. I had a feeling they were hiding things… And, by the end of the book, I was partially right about one of them and wrong about the other! I also really loved Pan and I'm so disappointed with the way his story ended! It made me so sad panda!!!
The plot for Bloodcraft really was incredibly intriguing! Don't get me wrong, Bloodspell had an interesting plot, too. But Bloodcraft really had me turning pages as fast as I could! The plot twists and revelations (which I briefly mentioned above) were intense and epic. The ending of the book was non-stop action, one thing after another! It was emotionally draining and exhausting, but in a good way! I was so invested in these characters and the things that happened to them at the end… It was just !!!!!!!!!!!!!!!
Overall, I really loved this book. I didn't enjoy Bloodspell as much as I'd hoped to, but Bloodcraft really made up for that with epic characters who experienced a ton of character growth, an intriguing plot, non-stop action, plus tons of revelations and plot twists! I HIGHLY recommend this book if you're an Amalie fan, especially if you were meh on Bloodspell, because Bloodcraft was EPIC and will blow your mind!
~*~*~*~
And now for the giveaway! Here's what's up for grabs:
-Kindle Fire giveaway is open to US residents due to shipping restrictions.
-Paperback copies of BLOODSPELL & BLOODCRAFT are open to US and INT readers.
-This giveaway is sponsored by Amalie Howard.
-Leading up to the release of BLOODCRAFT, more entries/options will be added to the rafflecopter to double your chances!
To enter, fill out the Rafflecopter below!
~*~*~*~
About Amalie:

AMALIE HOWARD grew up on a small Caribbean island (Trinidad & Tobago) where she spent most of her childhood with her nose buried in a book or running around barefoot, shimmying up mango trees and dreaming of adventure. 25 countries, surfing with sharks and several tattoos later, she has traded in bungee jumping in China for writing the adventures she imagines instead. She isn't entirely convinced which takes more guts.

An aspiring writer from a young age, Amalie's poem "The Candle," written at age twelve, was published in a University of Warwick journal. At fifteen, she was a recipient of a Royal Commonwealth Society Essay Award (a global youth writing competition). A Colby College graduate, she completed simultaneous Honors Theses in both French and International Studies, and graduated Summa Cum Laude/Phi Beta Kappa. At Colby, she was cited for research and criticism in Raffael Scheck's article, "German Conservatism and Female Political Activism in the Early Weimar Republic," and his subsequent book, Mothers of the Nation. She also received a distinction in English Literature from the University of Cambridge (A-levels) as well as a certificate in French Literature from the Ecole Normale Supérieure in Paris, France. Traveling the globe, she has worked as a research assistant, marketing representative, teen speaker and global sales executive.

agold-authorShe is the author of several young adult novels critically acclaimed by Kirkus, Publishers Weekly, VOYA, and Booklist, including Waterfell, The Almost Girl, and Alpha Goddess, a Spring 2014 Kid's INDIE NEXT title. Her debut novel, Bloodspell, was a #1 Amazon bestseller and a Seventeen Magazine Summer Read. As an author of color and a proud supporter of diversity in fiction, her articles on multicultural fiction have appeared in The Portland Book Review and on the popular Diversity in YA blog. She currently resides in Colorado with her husband and three children. She is represented by the Liza Royce Agency and is a member of SCBWI.

Website | Facebook | Twitter | Instagram
~*~*~*~
Tour Schedule

December 7th
Readers Live A Thousand Lives | Review
Ohana Reads | Promo
Live To Read ~Krystal | Promo

December 8th
Addicted Readers | Promo
SolaFide Book Club | Promo
Bookwyrming Thoughts | Promo

December 9th
Book Lovers Life | Promo
The Cover Contessa | Promo

December 10th
Curling Up With A Good Book | Promo
Reader Girls | Promo

December 11th
Whatever You Can Still Betray | Promo
Literary Meanderings | Promo

December 14th
Crystal's Chaotic Confessions | Promo
Two Brains of Book Reviewers | Review

December 15th
A Dream Within A Dream | Review
A Cupcake and a Latte | Review

December 16th
Pandora's Books | Review

December 17th
TSK TSK What to Read | Review
Good Choice Reading | Promo

December 18th
Pixie Vixen Book Reviews | Review
Books are Love | Review