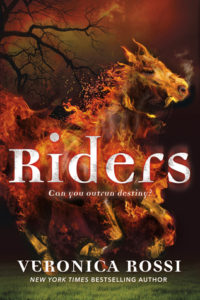 Riders
by
Veronica Rossi
Series:
Riders #1
Published by
Tor Teen
on February 16, 2016
Pages:
384
Format:
Hardcover
Buy on Amazon
Goodreads
While recovering from the accident that most definitely killed him, Gideon finds himself with strange new powers and a bizarre cuff he can't remove. His death has brought to life his real destiny. He has become War, one of the legendary four horsemen of the apocalypse.

Over the coming weeks, he and the other horsemen—Conquest, Famine, and Death—are brought together by a beautiful but frustratingly secretive girl to help save humanity from an ancient evil on the emergence.

They fail.

Now—bound, bloodied, and drugged—Gideon is interrogated by the authorities about his role in a battle that has become an international incident. If he stands any chance of saving his friends and the girl he's fallen for—not to mention all of humankind—he needs to convince the skeptical government officials the world is in imminent danger.

But will anyone believe him?
I was a little hesitant to pick this book up because I wasn't a huge fan of Rossi's Under the Never Sky trilogy. But I was lured in by the premise, which sounded epic and badass – and Riders definitely did NOT disappoint! Rossi's writing was SO much better in this than in her other series, and these characters were WAY more engaging.
Gideon was an epic narrator. I loved his dry, sarcastic sense of humor and his hilarious one-liners! I really, really liked Bas, but I'm worried what his fate will be in the next book. I was most intrigued by Marcus, though he also kind of terrified me. I hope we learn more about him in Seeker. I don't have much to say about Jode, though I was intrigued with the way his story ended, and I'm curious to see where they take things in book two.
And, finally, I really liked Daryn. I'm very curious about her character and her gift, and can't wait to learn more about her. I'm so glad she partially narrates Seeker because it means will get to know her better.
I really liked the role reversal in this. Usually it's the male "leader" who knows everything and has to fill the female in, but this is a group of men who answer to a woman. It was really refreshing! It kind of reminded me of Freya.
Another thing I really liked? The horses! Like, the Four Horseman were cool and all, but the horses were truly badass and I loved every scene with them! Their descriptions and the way they materialized was breath-taking!
The ending was INSANE and EPIC and WTF?!?!?!? I'm so glad I can binge-read both books back-to-back because if I had to wait to find out what happens next, I think I'd cry! I NEED to know what happens to certain characters and I NEED to see how this incredible story ends!
Overall, I truly enjoyed this book. I've been in a reading slump, so it took me a long time to finish it, but that was me, not the book. The book was excellent! I highly recommend it to those who are Rossi fans, and to anyone who loves stories about the apocalypse, etc. I'm VERY excited to start Seeker now!!
~*~*~
Favorite Quotes:
"He extended his arm to the side like Looky here, asshole. I'll see your sword and raise you a scythe."
"Death usually is the end."