I received this book for free from the publisher in exchange for an honest review. This does not affect my opinion of the book or the content of my review.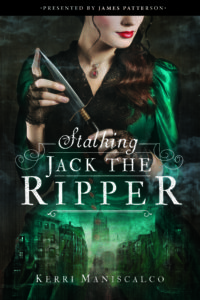 Stalking Jack the Ripper
by
Kerri Maniscalco
Series:
Stalking Jack the Ripper #1
Published by
Jimmy Patterson
on September 20, 2016
Pages:
336
Format:
ARC
Source:
the publisher
Buy on Amazon
Goodreads

Seventeen-year-old Audrey Rose Wadsworth was born a lord's daughter, with a life of wealth and privilege stretched out before her. But between the social teas and silk dress fittings, she leads a forbidden secret life.

Against her stern father's wishes and society's expectations, Audrey often slips away to her uncle's laboratory to study the gruesome practice of forensic medicine. When her work on a string of savagely killed corpses drags Audrey into the investigation of a serial murderer, her search for answers brings her close to her own sheltered world.

~*~*~

Hey everyone! Welcome to my stop on the blog tour for Stalking Jack the Ripper by Kerri Maniscalco (September 20, 2016 – Jimmy Patterson) This book was an incredibly twisted, epic read, so I'm really excited to be a part of this blog tour! I hope you enjoy my review!
~*~*~*~
I'm morbidly fascinated with Jack the Ripper – both fictional and non-fictional. So when I first heard about this book, I KNEW I had to read it! And it was soooo good! It's definitely in my Top Five Favorite Books for 2016! It was dark and fascinating, the writing was incredible and the characters were epic!
Audrey Rose is, without a doubt, one of my favorite female characters in a long time! She's so bold and fierce – sharp like a whip and hilarious – and so determined to break the rules of society and carve her own path.
Thomas cracked me up! I adored his personality and his cheekiness. He's so full of himself and he's completely cocky but he makes me snicker! He was also a shameless flirt and it made me like him even more! His chemistry with Audrey Rose was electric and intense. I loved when she called Thomas a fiend – it just fit him so well!
Nathaniel is hilarious – the words 'quippy' and 'cheeky' pretty much cover his personality! But he's also kind for supporting his sister. On the flip-side, I never fully trusted Blackburn and I despised Audrey Rose's father. I'd love to discuss these characters, as well as a few others, in greater detail but alas, spoilers! So I won't. But I wish I could! … Go read the book so we can discuss this stuff!!!!
The ending was INSANE and a complete mind-f*ck! I seriously… I don't even know. I finished reading this a whole month ago and I still can't process my thoughts and feels from the ending of this book, at all. I'm still in shock and still going, "…Seriously..? But… How…? Wait… seriously…?" I mean, at some point, I started having strange theories and wondering, but they seemed so ludicrous, I brushed them aside. And then… NOPE! I WAS RIGHT!!! If I could do an emoji from my computer right now, it would be the one with its mouth open in shock and hands on its face.
Kerri's writing was on point! It flowed and it made me feel as though I was actually living the story (as opposed to simply reading it). Also, I couldn't help but wonder about all the crazy things Kerri must have had to google for this book, haha!
Overall, if you couldn't tell from my gushing, fangirl review, I loved this book so very much! The plot was intense and intriguing; Kerri is an amazing writer; and the characters were beloved and well-developed. I HIGHLY recommend this book for those fascinated by Jack the Ripper and those who love a good mystery and/or thriller!
~*~*~
Favorite Quotes:
"Roses have both petals and thorns. You needn't believe something weak because it appears delicate." (This is, quiet possibly, my favorite quote ever).
"I promise. I'll be as silent as the dead." … "The dead speak to those who listen. Be quieter than even them."
"I had no idea my innards were composed of cotton and kittens, while yours were filled with steel and steam-driven parts."
"Just because I was a girl interested in a man's job didn't mean I needed to give up being girly."
~*~*~*~
And now for the giveaway! Thanks to the publisher and tour host, we have 3 Finished Copies of STALKING JACK THE RIPPER (US Only). To enter, fill out the Rafflecopter below:
~*~*~*~
About the Author:

Kerri Maniscalco grew up in a semi-haunted house outside NYC where her fascination with gothic settings began. In her spare time she reads everything she can get her hands on, cooks all kinds of food with her family and friends, and drinks entirely too much tea while discussing life's finer points with her cats. Stalking Jack the Ripper is her debut novel. It incorporates her love of forensic science and unsolved history, and is the first in a new series of gothic thrillers.



Website | Twitter | Instagram
~*~*~*~
Tour Schedule:


Week 1:
9/12: No BS Book Reviews – Review
9/13: A Perfection Called Books – Guest Post
9/14: The Heart of a Book Blogger – Review
9/15: My Friends Are Fiction – Q&A
9/16: Pandora's Books – Review

Week 2:
9/19: Polished Page-Turners – Review
9/20: The Irish Banana Review – Top 10
9/21: Chapter By Chapter – Guest Post
9/22: What Sarah Read – Mood Board
9/23: That Artsy Reader Girl – Review