I received this book for free from the publisher in exchange for an honest review. This does not affect my opinion of the book or the content of my review.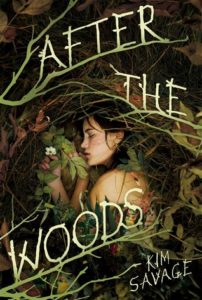 After the Woods
by
Kim Savage
Published by
Farrar Straus and Giroux
on February 23, 2016
Pages:
304
Format:
ARC
Source:
the publisher
Buy on Amazon
Goodreads
Would you risk your life to save your best friend?

Julia did. When a paroled predator attacked Liv in the woods, Julia fought back and got caught. Liv ran, leaving Julia in the woods for a terrifying 48 hours that she remembers only in flashbacks. One year later, Liv seems bent on self-destruction, starving herself, doing drugs, and hooking up with a violent new boyfriend. A dead girl turns up in those same woods, and Julia's memories resurface alongside clues unearthed by an ambitious reporter that link the girl to Julia's abductor. As the devastating truth becomes clear, Julia realizes that after the woods was just the beginning.
A message from Meredith: Hey everyone! Today, I have Leah here with a guest review for After the Woods by Kim Savage
You can find Leah on Bumblebee Book Blog and on Twitter!
Without further adieu, here's Leahs's review! Enjoy!
~*~*~*~*~
Julia and her best friend Liv love to go trail running as part of their cross country training. They always go together to run through the woods on a trail that two teenage girls really have no business running on alone. Everyone's worst fear is confirmed one day when the girls are on one of their normal runs and Liv (who is much faster and always runs ahead of Julia) gets attacked by a man with a knife. Faced with the decision of fight or flight, Julia knows she can't leave her best friend behind to fend for herself. Liv is able to get away after Julia tries to fight off the attacker. Liv leaves Julia and the man while she runs to get help. That is the last anyone sees of Julia for two days until she is able to once again best her attacker and get away.
Now a year later, Julia is still dealing with the aftermath. Everything changed once she was found in the woods. She is now a local celebrity because of her valor. The media loves her story and have used it for a platform to try and build a case on why the police were incompetent enough to let a man with parole violations slip under the radar enough that he was able to attack two teenager girls. Along with this, Julia also has to deal with how her attack has affected her personal life. Things with Liv are never the same since that night. Liv has taken to dealing with her problems with reckless behavior and rebellion. Julia thinks that she is on a downward spiral and she doesn't know what to do to help. Julia's mom has also forced her to see multiple therapists in an attempt to make her deal with the attack. No one understands that Julia needs to know the facts of the case and why it happened to her in order for her to ever be able to move on. As she is researching the case, she begins to find out information that will change things forever.
The thing that I really enjoyed about this book that I didn't anticipate was the focus on the emotional and psychological toll of being abducted (or not abducted in one case) had on the MC. After being out of the woods for a year, Julia still doesn't handle things the way everyone around her thinks she should. She is a scientist to her core and researching statics and gathering information is the only way she can process what happened to her. As much as her therapists want her to put her feelings neatly into a box of what they think she should be feeling, Julia just isn't that way. The thought of playing with dolls to act out what happened to her makes her roll her eyes out of her head. I think this is a great perspective for the writer to show since not everyone deals with their problems the same. Sure, talking to a therapist will help some, but some people need to know the WHY in order to heal. I really enjoyed that no matter what dark secret Julia uncovered, she still thirsted for more knowledge. Her emotional strength was a refreshing trait to read about.
There were a few problems that I had with the story. At times, things jumped around a lot. Stuff would be mentioned, but never fully explained in the end. The obsession with writing GIRLs, the "black thing" in her belly, etc. I also really wish that Julia and Kellan's relationship would have been featured more or just not mentioned at all. It is so spotty that it feels like Kellan was put into the story as a filler. At times I completely forgot that he was even a character because of how little he was mentioned.
Overall, I enjoyed this book. I would recommend it to anyone that is a fan of YA thrillers that focus on dark subject matter like The Darkest Corners by Kara Thomas.