We are absolutely thrilled to bring you the Blog Tour for Heather Lyons' THE FORGOTTEN MOUNTAIN! THE FORGOTTEN MOUNTAIN is an Adult Romantic Fairy Tale, full of adventure and fantasy and the third book in Heather's The Collectors' Society Series! Grab your copy today!
After years spent in Wonderland, Alice Reeve learned the impossible was quite possible after all. She thought she left such fantastical realities behind when she finally returned to England.

Now Alice has become a member of the clandestine Collectors' Society, and the impossible has found her again in the form of an elusive villain set on erasing entire worlds. As she and the rest of the Society race to bring this mysterious murderer to justice, the fight becomes painfully personal.

Lives are being lost. Loved ones are shattered or irrevocably altered. Each step closer Alice gets to the shadowy man she hunts, the more secrets she unravels, only to reveal chilling truths. If she wants to win this war and save millions of lives, Alice must once more embrace the impossible and make the unimaginable, imaginable.

Sometimes, the rabbit hole leads to terrifying places.

Goodreads




Amazon | Barnes & Noble




iBooks | Kobo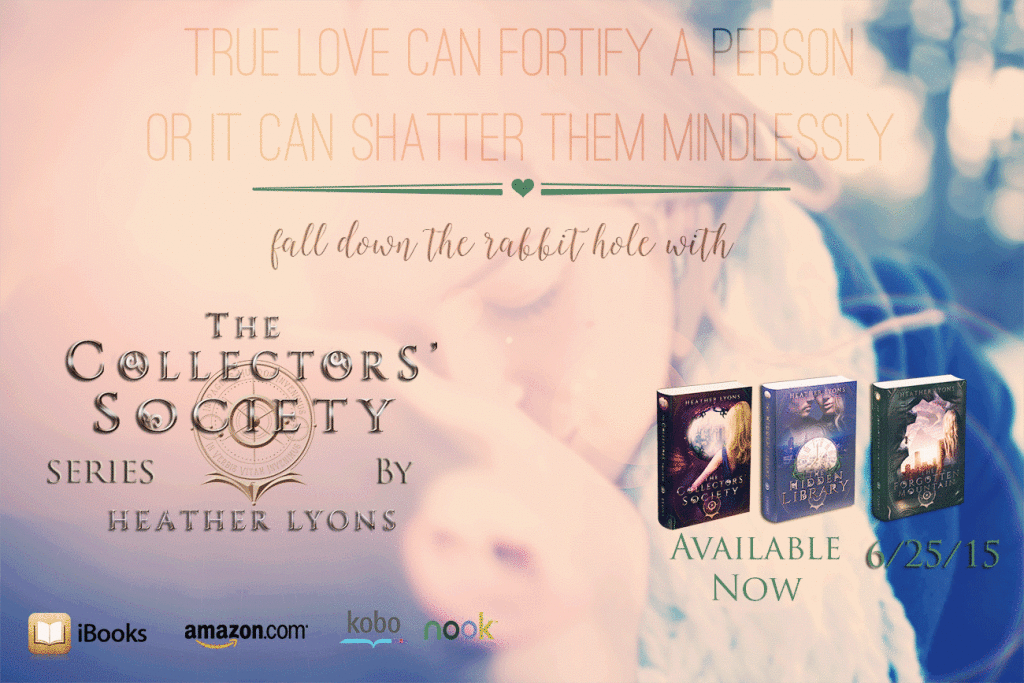 Don't miss the first books in this The Collectors' Society Series!

Amazon | Barnes and Noble | iBooks | Kobo




~*~*~*~

Amazon | Amazon UK | Barnes and Noble | iBooks | Kobo
~*~*~*~
And now for the Playlist! Enjoy!
A lot of people ask me what songs I write my books to—especially for the Collectors' Society series. For most books, I've kept separate playlists, even in series, but for the Society's stories, I've compiled one main list that I keep adding to. The Spotify list I'm sharing with you all today includes the songs I listened to while writing The Collectors' Society, The Hidden Library, and The Forgotten Mountain, as I reuse songs for particular characters all the time. In case you're curious, the The Forgotten Mountain songs begin with the Terminator Love Theme (yes, you read that right!) and go on from there, including Stand Back by Stevie Nicks, White Wedding by Billy Idol, Video Games by Lana Del Rey, Wanted Dead or Alive by Bon Jovi, and America by XYLØ. Honestly, this is probably the most eclectic playlist for a story I've written so far! The Forgotten Mountain is heavy on instrumentals, simply because there is so much action within the pages and I wanted/required more tone than lyrical feel while writing. I hope you enjoy the songs used to help shape the tone of the series!

To Listen to the playlist, click here!
~*~*~*~
~*~*~*~
Now for the giveaway! Enter for a chance to win this gorgeous Collectors' Society inspired bracelet!


To enter, fill out the Rafflecopter below!
~*~*~*~
THE FORGOTTEN MOUNTAIN Tour Schedule:

June 26 – TSK TSK What to Read
June 27 – A Bookish Escape
June 28 – Romance Addict
June 29 – Pandora's Books
June 30 – Kimberlyfaye Reads
July 1 – Naughty and Nice Book Blog
July 2 – A Life Bound by Books
July 3 – BookAngelBooktopia
July 4 – A Literary Perusal
July 5 – Love Between the Sheets
July 6 – True Story Book Blog
~*~*~*~
About Heather Lyons:

Heather Lyons has always had a thing for words—She's been writing stories since she was a kid. In addition to writing, she's also been an archaeologist and a teacher. Heather is a rabid music fan, as evidenced by her (mostly) music-centric blog, and she's married to an even larger music snob. They're happily raising three kids who are mini music fiends who love to read and be read to.







Heather's website | Heather on Goodreads