I received this book for free from the publisher in exchange for an honest review. This does not affect my opinion of the book or the content of my review.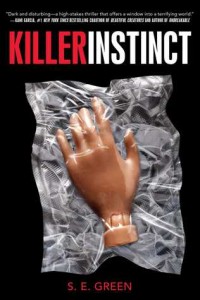 Killer Instinct
by
S.E. Green
Series:
Killer Instinct #1
Published by
Simon Pulse
on May 6, 2014
Pages:
272
Format:
Hardcover
Source:
the publisher
Buy on Amazon
Goodreads

She's not evil, but she has certain... urges.

Lane is a typical teenager. Loving family. Good grades. Afterschool job at the local animal hospital. Martial arts enthusiast. But her secret obsession is studying serial killers. She understands them, knows what makes them tick.

Why?

Because she might be one herself.

Lane channels her dark impulses by hunting criminals—delivering justice when the law fails. The vigilantism stops shy of murder. But with each visceral rush the line of self-control blurs.

And then a young preschool teacher goes missing. Only to return... in parts.
When Lane excitedly gets involved in the hunt for "the Decapitator," the vicious serial murderer that has come to her hometown, she gets dangerously caught up in a web of lies about her birth dad and her own dark past. And once the Decapitator contacts Lane directly, Lane knows she is no longer invisible or safe. Now she needs to use her unique talents to find the true killer's identity before she—or someone she loves—becomes the next victim...
As someone who's fascinated with psychology, forensics and Criminology, this book was all kinds of epic in my eyes. Especially since I've been on a Criminal Minds kick lately and this felt like Criminal Minds for YA. It especially appealed to me because there aren't a lot of YA books like it. I've seen a lot of serial killer/FBI YA books that have supernatural elements, but I've never seen one that was pure fiction/psychological thriller WITHOUT supernatural elements. So this book really filled that void. Not to mention the fact that the writing was amazing, the characters were epic and the twists and turns kept me guessing until the very end!
I loved Lane. She was such a fascinating character. She was also a bit creepy, but seeing into her mind was epic. I was pulled right in to the psychology of it all – her thoughts, her actions, her justifications for the things she did. At times, I felt very sympathetic towards her and the things she was going through and the revelations she dealt with. At other times, I looked at her character purely from a psychological viewpoint, profiling her using things I learned when I took psychology classes (and from watching Criminal Minds). As unrelatable as she was in certain ways, she was also very relatable in other ways. She just wanted to be a normal, carefree girl with no drama and no worry. The whole Masked Savior thing was an interesting outlet for Lane and, from what I can tell, plays a major part in the plot of Killer Within.
Lane's mom was incredibly fascinating, as well. Since I'm on a Criminal Minds kick, she reminded me of Hotch, since she was the Director of the BAU. I don't know what else I can say about her because of spoilers, but holy crap.. Holy CRAP!!! Victor, Lane's stepdad, was an interesting character. I liked his relationship with Lane and the way they got along. I'm so tired of the evil step-parent cliche, so it was really refreshing.
Lane's sister, Daisy, was like the complete opposite of Lane. I didn't like nor dislike her. She was just there. I liked Lane's brother, Justin, and the relationship he had with Lane. Also, Justin seemed to be one of the few people who brought out Daisy's good side. It was nice seeing them all bond in their own way.
Reggie was an awesome character! And, since I'm on a roll with Criminal Minds comparisons, she totally reminded me of Garcia. I definitely hope to see more of her in Killer Within!
I really liked Zach. He was like Lane's perfect match. He understood her, he gave her space when she needed it and he let her be herself. I totally shipped them and, though the ending of the book made me sad, I'm crossing my fingers for them in Killer Within! I couldn't stand Belinda, though Lane definitely took care of her, which had me cracking up! And the whole Dr. Issa thing was.. Odd, but in an interesting way. I have a strange feeling we'll be seeing more of him.
The whole Decapitator story line was deliciously creepy. And the role that Lane played was creepy, terrifying and fascinating. The twists and turns involved in this story line left my head spinning!! One second, I thought I had it all figured out; the next, I had a whole new set of theories. I was suspicious of just about everyone. But then that ending.. I have no words for how shocked, horrified, terrified, surprised and… (here's that word again) fascinated I was by the big reveal. I NEVER saw that coming and I couldn't believe it. My head is still spinning from the shock of it all!
Overall, I can't begin to describe how epic and amazing and creepy and wonderful this book was. I was so excited when I first heard about it, but honestly, it exceeded my expectations in every way imaginable. I highly recommend it if you love psychological thrillers and books with epic plot twists that leave you guessing with every flip of the page. S.E. Green is one of my new favorite authors and I can't wait to read Killer Within!