I received this book for free from the publisher in exchange for an honest review. This does not affect my opinion of the book or the content of my review.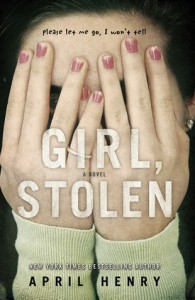 Girl, Stolen
by
April Henry
Published by
Henry Holt and Co.
on December 1, 2010
Pages:
213
Format:
Hardcover
Source:
the publisher
Buy on Amazon
Goodreads
Sixteen-year-old Cheyenne Wilder is sleeping in the back of the car while her stepmom fills a prescription for antibiotics. Before Cheyenne realizes what's happening, the car is being stolen.

Griffin hadn't meant to kidnap Cheyenne and once he finds out that not only does she have pneumonia, but that she's blind, he really doesn't know what to do. When his dad finds out that Cheyenne's father is the president of a powerful corporation, everything changes--now there's a reason to keep her.

How will Cheyenne survive this nightmare?
Girl, Stolen was a fast-paced, suspenseful read that kept me on the edge of my seat.
I loved the main character, Cheyenne. She was strong, brave and resilient, even when it seemed like there was no hope. She was sick with pneumonia and blind, but she never let those things slow her down. If anything, she used them to her advantage. At times, she used these things to seem weak and helpless so she could lie in wait and attempt to escape. At other times, she used them to try and beg for her release. She never gave up hope and never gave up fighting.
I wish I could say I liked Griffin but my feelings are mixed. He claimed he never meant to kidnap Cheyenne, he just wanted the car. He claimed his dad would fix things and let her go. And at times, Griffin is kind and sympathetic to Cheyenne. He even protects her at times. But at every turn, he seemed to make stupid decisions. The issue of grand theft auto aside, he was stupid to steal the car so impulsively. He was stupid not to let Cheyenne go before he got home to his dad. So I really don't feel bad for him and I can't fully like him, despite the few kind things he did do. I will say that he was pretty innocent, in the ignorant sense of the word. He was young and scared and didn't think about the consequences of his actions. He did kind of redeem himself in the end, though.
I also have mixed feelings on the relationship between Cheyenne and Griffin. On the one hand, trying to develop a friendship with your capture can inspire feelings of sympathy with said capture, making the capture see his victim more as a person than just an annoyance that needs to be "dealt" with. At times, Cheyenne tried to make Griffin realize that she was a person, she was sick and – because of her blindness – she wouldn't tell the cops anything if they just let her go. At other times, she tried to elicit sympathy from him, by saying she was sick and needed her antibiotics. So I can understand the motivation behind it. On the other hand, I don't know any kidnap victim who would get THAT friendly with the person who kidnapped her.
I definitely felt, though, that I learned a lot about being blind from the discussions Cheyenne had with Griffin. It felt educational and insightful. I didn't feel like it was being thrown in the reader's face or shoved down their throat, as some books that try to teach a lesson tend to do, even if not intentionally. At the same time, I didn't feel like Cheyenne being blind was the main point in the story. It wasn't her being blind that made me (as the reader) feel bad for her – it was that she was kidnapped and she was sick with pneumonia and scared.
The only part where Cheyenne being blind really played a factor was the end. I need to be SO vague here so as not to spoil you guys, but her being blind and not knowing what was going on also put the reader in the dark, making it more scary and suspenseful. I definitely started crying in fear and worry a few times.
Overall, I really enjoyed this book. I couldn't put it down because I was desperate to see how it ended. I would absolutely recommend this book. I have four of April Henry's books but have only read this one and I must say, I'm definitely glad it was my first April Henry book. I thoroughly enjoyed it and it makes me very excited to dive right into the next one!