I received this book for free from the publisher in exchange for an honest review. This does not affect my opinion of the book or the content of my review.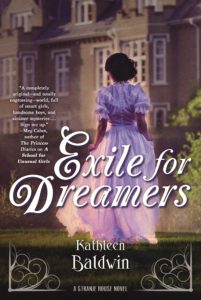 Exile for Dreamers
by
Kathleen Baldwin
Series:
Stranje House #2
Published by
Tor Teen
on May 24, 2016
Pages:
384
Format:
ARC
Source:
the publisher
Buy on Amazon
Goodreads
It's 1814. Napoleon has escaped his imprisonment on Elba. Europe is in shambles. Britain is at war on four fronts. And at Stranje House, a School for Unusual Girls, five young ladies are secretly being trained for a world of spies, diplomacy, and war.

Tess Aubreyson can't run far enough or fast enough to escape the prophetic dreams that haunt her. Dreams bring nothing but death and grief, and Tess refuses to accept that she may be destined for the same madness that destroyed her mother. Until her disturbing dreams become the only means of saving Lord Ravencross, the man she loves, and her fellow students at Stranje House. Tess's old friend, the traitorous Lady Daneska, and Ghost, the ruthless leader of the Iron Crown, have returned to England, intent on paving the way for Napoleon's invasion. Can the young ladies of Stranje House prevail once more? Or is England destined to fall into the hands of the power-mad dictator?
I absolutely loved A School for Unusual Girls! So it saddens me to have to write this review for Exile of Dreamers because, while this series isn't a trilogy (I believe it's a 4-6 book series), Exile for Dreamers fell into a trap that many trilogies experience – Second Book Syndrome. For the majority of the novel, it just felt like nothing was happening – like it was all just filler. There were some minor revelations, but nothing major or overly exciting.
Despite the lack of action and intrigue, I will say this book kept my interest for one very big reason: The major ship feels! I ship pretty much every couple in this series and I ship them HARD. So let's chat about the characters and relationships a bit:
As I said in my review of A School for Unusual Girls, sometimes Tess was bold and brazen; sometimes she was stubborn and rude, just barely toeing the line. But she was fierce and strong, independent and willful. She didn't let people push her around and she protected herself when she needed to. The same can be said for her character in Exile for Dreamers. Except we also got to see a more vulnerable side of her – the side with her deepest secrets, fears and vulnerabilities. I loved her in book one and I loved her even more in book two.
In A School for Unusual Girls, Lord Ravencross was a frustrating character. I tried to sympathize with him; he had a painful past and the only way he knew to keep people safe was to push them away. But that meant he was down-right rude to Tess. I loved their moments of bickering, but it was hard to look past his behavior otherwise. However, seeing the story through Tess's eyes, we also learned more about Lord Ravencross and his past, as well as who he truly is as a person. And man, did I fall hard for him. If I had to pick an OTP for this series, it would definitely be Tess and Lord Ravencross. I just adore their love/hate relationship and their bickering and banter. They're hilarious and perfect for each other.
It was weird seeing Georgiana as a secondary character. Everything I thought I liked about her in A School for Unusual Girls… Well, it's not that I disliked her in Exile for Dreamers but… I just didn't like her as much. She was a bit annoying and didn't seem as capable as she did in the first book. It was almost as if her character digressed, which was disappointing. I didn't even ship her and Lord Wyatt quiet as much as I did in the first book. I was just.. indifferent to them.
Sera is still one of the most intriguing characters, in my opinion. And I loved that we got to see more of her in this book. She's the shy character, the one who doesn't speak up as much and who can be easily overshadowed by the other girls. Yet Mr. Chadwick really brought out a different side of her – feisty and flustered, all at the same time. I loved their banter almost as much as I loved Tess and Lord Ravencross's banter. But there's still something about Chadwick that worries me. He's far too intuitive and asks far too many questions for his own good. I'm very sad, too, that Sera's story isn't being told yet. I hope we'll get her story soon, as I'm still really intrigued by her and her abilities and I can't wait to see what happens between her and Chadwick.
So far, out of the five girls at Stranje House, we've learned the least about Jane and Maya. This worries me since Jane's story is being told in book three. Sanctuary for Seers. It also worries me because, since we know the least about her, I find her the least interesting. And since Exile for Dreamers was a bit of a let-down, I'm nervous to go into another book with a character I'm not crazy about. I definitely think there's more to her story than we could possibly know and I can't wait to see how it unfolds. Not to mention my ship feels for her and Mr. Sinclair were intense – They're another couple that excels at banter, with their love/hate relationship. I can't wait to see what happens next for them!
As for Maya, still the only thing I know about her is that she's the diplomat of the group, the voice of reason. She's also the only girl without a potential significant other and I'm interested in seeing how that goes for her, since Kathleen Baldwin is so amazing with her relationships/ship feels/bantering couples.
Despite the Second Book Syndrome and the lack of truly intriguing revelations, there were still moments that had me curious or shocked, moments that had me asking questions and seeking answers. Plus, as I mentioned, my ship feels were off the charts! So despite my issues with this book, I'm still eager to read book three and see what happens next. Even though I wish we were getting Sera's story next, I'm interested in seeing a different side of Jane than we've seen so far.
Kathleen Baldwin did a magnificent job of creating a story that's intriguing and compelling. Her characters – even those I'm not as fond of – feel like real people in history. I'm completely fascinated with this alternate history and can't wait for more books – which I hope bring the answers I seek!
Overall, I definitely recommend this book to those who loved A School for Unusual Girls. Though it suffers from some Second Book Syndrome, it sets the scene for book three, which I have a feeling will be epic and intense. The characters carried the story where the plot didn't, so if you love the characters, I highly recommend pushing through to the very last page. Otherwise, you'll miss some insane Tess/Lord Ravencross moments ;)