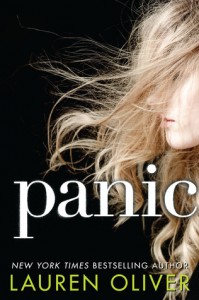 Panic
by
Lauren Oliver
Published by
HarperCollins
on March 4, 2014
Pages:
416
Format:
Hardcover
Buy on Amazon
Goodreads
Panic began as so many things do in Carp, a dead-end town of 12,000 people in the middle of nowhere: because it was summer, and there was nothing else to do.

Heather never thought she would compete in Panic, a legendary game played by graduating seniors, where the stakes are high and the payoff is even higher. She'd never thought of herself as fearless, the kind of person who would fight to stand out. But when she finds something, and someone, to fight for, she will discover that she is braver than she ever thought.

Dodge has never been afraid of Panic. His secret will fuel him, and get him all the way through the game, he's sure of it. But what he doesn't know is that he's not the only one with a secret. Everyone has something to play for.

For Heather and Dodge, the game will bring new alliances, unexpected revelations, and the possibility of first love for each of them—and the knowledge that sometimes the very things we fear are those we need the most.
Panic is a thrill-ride of a novel. It will keep you on the edge of your seat from page one and refuse to let you go until the very last sentence. Panic is a game that's played simply because "There was nothing else to do." The shocking reality of this statement, the possibility that this could really happen, hits you almost immediately. Lauren Oliver comes up with the most intriguing ideas. Her writing has matured so much from Delirium to Panic.
Heather was a great character because she felt so real. One minute, you were rooting for her and worrying for her, hoping she was okay and wanting her to prevail. The next minute, you were angry with her, ashamed of her and her decisions. You wanted to yell at her, scold her, tell her to stop and think about what she was doing before she did it. She felt like a best friend who you couldn't help but love and hate, who you could argue with and not speak to for months, only to pick right back up where you left off, as if no time had been lost.
Speaking of best friends, Natalie annoyed me. She was obnoxious, she didn't pull her weight, she was a back-stabber. I just didn't like her. She frustrated me. I never trusted her, I never liked her and, if I were Heather, I never would have forgiven her. But, so I don't get spoilery on you, I'll stop here. She kind of redeems herself in the end – in a big way, actually. So maybe I WOULD have forgiven her…
There was something about Dodge, right from the beginning, that had me intrigued. I couldn't explain it then and I still can't completely explain it now. I think, on some level, I knew what his ultimate plan was. There were enough hints dropped. I also think his character had the most growth throughout the book, though Heather was a close second, for sure (I don't think Natalie had any growth at all. I don't think she matured or changed at all. Just saying…). I still never completely fell for Dodge and I couldn't see him as anyone's love interest, but he still proved himself and he was still a great character.
Bishop.. Hah. Hah. Hah. Okay, first of all, I loved Bishop. Absolutely and completely loved him. But… There was a certain revelation that I completely saw coming from the very beginning. I figured it out really early on, but in the moment when it was officially revealed, I still went crazy. Enough said – or, again, I might get spoilery. Another character I loved and want to give a shout out to is Anne. She was amazing and she made me cry like a baby a few times!
I think my reactions via my Goodreads Status updates (below) speak for themselves:
Overall, this book was amazing, action-packed and filled with memorable characters. The concept, the plot – the game itself, with its crazy, daring and – sometimes – insane and dangerous challenges. There was very little I didn't enjoy about this book! I would definitely recommend it to those who loved Oliver's previous books, as well as to fans of fast-paced adventure books. And if you haven't read any of Oliver's books, I would recommend you read Panic first. It's THAT amazing.